Isla Mujeres is the first place in México that receives the first rays of the sun, let's say that is where México wakes up.
From our hotel Bahia Tolok, located in front of the bay you can enjoy an exquisite breakfast. When you wake up with the first rays of the Mexican sun you will be able to walk all over Isla Mujeres with an exquisite temperature.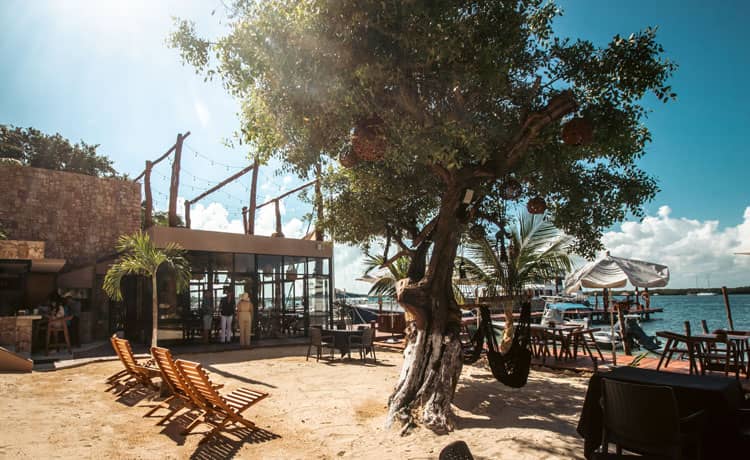 How long is isla mujeres ?
This beautiful island is a tourist destination surrounded by beautiful and crystalline waters that characterize the Mexican Caribbean. Isla Mujeres is only eight kilometers (5 milles) long and 6 kilometers (3,8 milles) wide in geographical extent. The width can vary in different parts of the island, the narrowest part of it does not exceed 150 meters. (0,09 milles)
Driving around the island without stopping can be done in 30 minutes without a stop. If you will like to observe the different geographical accidents, will need more time.
Geographical attraction
Although it is a very small island, it is incredible to be able to find so much difference from one end to the other.
At the northern tip of the island you can enjoy a calm, shallow sea and white sands.
In the center is the bay, a place used to cross from one end of the island to the other.
The southern part is characterized by its high cliff and strong waves from the open sea.
The Western Coast of Isla Mujeres National Park, Punta Cancún and Punta Nizuc are part of the barrier reef called «Great Western Atlantic Reef Belt». It is also known as «Great Mayan Reef» and belongs to the «Mesoamerican Reef System» considered as the second barrier reef biggest in the world.
Bajo Pepito is a sandbar located near the west end of the island.
Inside the Island there are 2 lagoons called Salina Chica and Salina Grande.
In the eastern part of the Island is the Macax Lagoon, connected to the bay, which is used to shelter boats when there is bad weather.
Isla Mujeres location
The Island as it is known by the locals or Cancunenses, is a place of relaxation. You can enjoy the crystalline and calm waters of the sea that surround it.
This beautiful island is located in the Mexican Caribbean just 6 km (3,7 milles) from Punta Sam Cancun. In Punta Sam there is 2 ferry companies that offers transportation to Isla mujeres each 30 minutes
Our location on the island
From our hotel you can go kayaking to the sunken ship (a tourist spot) where you can enjoy marine life in its splendor.
You will have a privileged seat to enjoy the sunset in our hammocks in the waters of the bay in front of the hotel or share with the family the sunset from our bar facing the sea.